I asked Tina Brooks of Peppermaster for a brief testimonial for the website. We compromised on this wonderful interview about her experience working with a good mind. She had many kind words to say about the marketing plan/framework I wrote for her company and its continuing value to her and Peppermaster.
This interview has been edited for length.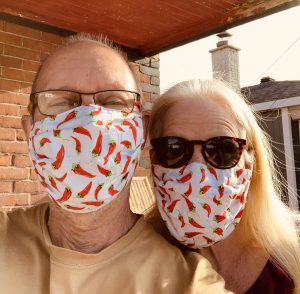 What originally motivated you to reach out to me?
We needed someone who understood the food industry and how to read a business plan. We needed to produce a marketing plan & calendar that fit with the Peppermaster business plan. A marketing plan that could be updated easily and used to grow.
At the time, I was impressed by the work you were doing on the Eatin's Canada blog and other work you were sharing.
How do you recall the process unfolding?
It was a good flow and went from idea to execution pretty well. You showed an understanding of what we were, what we wanted, and what we needed as our corporate philosophy and policies.
It was almost like you brought a spiritual essence to the table that matched the spirit of the energy we bring. It was about being really personal and being about the food and how good the food had to be and how the food had to come out of the dirt. You brought to the table first hand connections with growing food, talking about food, and knowing who our target market was.
You understood the philosophies of our company. You took the time to learn what our business was about. You read our business plan, discussed with us who we were, what we wanted, what we needed, before you started any of the work. Then you started putting it together.
The questions that you came back with were extremely on point, extremely on trend. The result was a plan that was easy to follow, with budgets and typical income results for our activities. It was also easy to update and add new items into, and during the pandemic, the plan helped us plan our next steps.
How did you find the plans working for you?
We maintain the plans regularly. I'll be working with my new executive assistant to update that plan over the next two months. We've been using it for nearly 3 years now and it gets an annual update every time we update the business plan.
Did the plan help your cost/benefit ratio even in the face of the pandemic?
Your marketing plan and calendar helped us focus on visibility in the local market long before the pandemic hit, and it showed clearly where we were making and spending money.
Up until the Pandemic, everything that we do during the course of the year has been specifically designed to do two things: Drive traffic to my shops (online and the storefront) and/or drive traffic to my shows. Go to the show, come to the shop, go to the show, come to the shop.
When the pandemic hit, that changed, "Okay, we can't tell people come to the shop, go to the show because we're not allowed to have them in the physical shop or go to the show. What do we do?"
We sat down and used the calendar to figure out where we were going to most profitably spend our time and marketing budget. So, we knew in March that we could lose as much as 200k to 300k on canceled annual shows. Before the end of March, we already knew how we were going to spend our marketing dollars to maximize recovery from the shows we already knew were not going to come off in person.
The framework of the plan helped us pivot. We had already used the calendar to determine where we were going to make more marketing efforts. So, we had been a year ahead of the game going into the pandemic.
The plan underlined that the biggest and most valuable marketing projects for us are during the Christmas period. Our business is very seasonal. So, the online shows that happen in the gift-giving season were the ones we decided to concentrate on being ready for.
The plan also gave us a foundation that helped us fine-tune our local marketing. When the pandemic began, we were already fairly well established in the local, organic, fair trade, mostly local psyche. That was perfect for us. At the beginning of the Pandemic, everybody suddenly did a 360º and went "Oh, you're local? Oh! We need you!"
Well, suddenly we've got essentially two new clients who have completely replaced the revenues from these missing shows. One is Lufa Farms, a privately owned business, and the other is Coop CSUR a local co-operative market. In both cases, their family membership doubled overnight and they added us as suppliers.
We just went through the roof! Every penny of the 250 to 300k that we lost because of the Pandemic, we replaced that with sales to the local market. At the same time, we saved a lot by choosing shows based on anticipated ROI, rather than for history's sake or habit.
If we hadn't done this marketing plan work with you, we would not have been so prominent in the local market as we were that Lufa would come in looking for us, and that really helped our year.
If you were going to refer somebody to me and say "call this woman" how would you motivate them to call me?
"Gayle will take your philosophy and your corporate policy and turn it into a marketing program that will bring in the exact people you are looking for."
Thank you! That's amazing.
May we help you achieve your goals? Reach out! Let's talk.
Send an email today and let's begin!